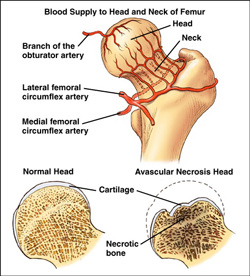 Root Cause of Femoral Head Avascular Necrosis – AVN
Avascular necrosis (also osteonecrosis, bone infarction, aseptic necrosis, ischemic bone necrosis,and AVN) is a disease where there is cellular death (necrosis) of bone components due to interruption of the blood supply. Without blood, the bone tissue dies and the bone collapses.If avascular necrosis involves the bones of a joint, it often leads to destruction of the joint articular surfaces.
Avascular necrosis is a medical condition which is caused by a restriction of blood supply to the bones of the body. As a bone is deprived of blood, it starts to weaken and crack, and it will ultimately collapse, potentially causing serious problems. The condition strikes people in all ages and physical conditions, and it requires prompt medical treatment for the best chance at recovery. In some cases, it can become a life long problem which will require extensive monitoring to ensure that the patient's bones stay in good health.
Three leading causes for avascular necrosis are trauma, heavy alcohol consumption, and the use of corticosteroids. The condition can also be caused by sudden decompression, radiation damage, sickle cell anemia, and hypertension, among other things. Sometimes there is no clear explanation for avascular necrosis, in which case it may be known as idiopathic necrosis. Some doctors call the condition osteonecrosis, aseptic necrosis, or ischemic bone necrosis as well.

Joints are common victims of avascular necrosis, especially the hip joints. The condition can also strike the shoulders, knees, and jaw. Typically, the condition is diagnosed after a patient complains of persistent joint pain; if you experience recurrent or persistent pain, it is very important to see a doctor to get to the root cause. The longer avascular necrosis is left untreated, the more damage to the bone the condition can cause; if left for too long, it can result in permanent disability.
Treatment of AVN
Orthopaedic Surgery – A temporary solution – Avascular necrosis is especially common in the hip joint. A variety of methods are now used to treat avascular necrosis,the most common being the total hip replacement, or THR. However, THRs have a number of downsides including long recovery times and short life spans. THRs are an effective means of treatment in the geriatric population; however, doctors shy away from using them in younger patients due to the reasons above. A new, more promising treatment is hip resurfacing or metal on metal (MOM) resurfacing. It is a form of a THR, however in this procedure, only the head of the femur is removed as opposed to a THR in which the entire neck is removed. MOM resurfacing is still experimental in America but has been endorsed in Great Britain as an excellent alternative to a THR. A MOM Resurfacing may not be suitable in all cases of Avascular Necrosis, its suitability depends on how much damage has occurred to the femoral head of the patient, bone is always undergoing change or remodelling.The bone is broken down by osteoclasts and rebuilt by osteoblasts.Some doctors also prescribe bisphosphonates (e.g. alendronate) which reduces the rate of bone breakdown by osteoclasts, thus preventing collapse (specifically of the hip) due to AVN.
Other treatments include core decompression, where internal bone pressure is relieved by drilling a hole into the bone, and a living bone chip and an electrical device to stimulate new vascular growth are implanted; and the free vascular fibular graft (FVFG), in which a portion of the fibula, along with its blood supply, is removed and transplanted into the femoral head.
Progression of the disease could possibly be halted by transplanting nucleated cells from bone marrow into avascular necrosis lesions after core decompression, although much further research is needed to establish this technique.
Homoeopathy – A permanent solution to the AVN problem, self applied by Blogger.
Personal Recommendation by Blogger who was suffering from AVN – Do not go for any orthopaedic surgeryrecommended by surgeon, this will cure your problem temporarily. Instead go for below Homoeopathic treatment suggested by Blogger for complete cure.
Address and Contact number of Dr Risbud who treated me for the same:
Dr Rajendra D. Risbud, near Bodas Mangal Karyalay, beside Anand Bal Bhawan, Dombivalli east, Maharashtra, Pin – 421201
Phone Number: 0251 2862053
Links to few Homoeopathic sites for AVN treatment
http://www.homeopathyworldcommunity.com/forum/topics/non-surgical-homoeopathic-treatment-for-avascular-necrosis-of
http://mindheal.org/necrosis_joints.html
http://treato.com/Avascular+Necrosis,Homeopathy/?a=s
Blogger's Contact Detail:
Manish Dwivedi
email – manish_dvdeclerx@yahoo.com
mobile – 9765950854/9699982598